When you want to build something special but you're not finding the blueprint, model or plan that embodies what you envision, it's time to visit Honsador Lumber. Over the last 30 years, we've helped thousands of contractors and owner builders design new homes, additions and remodeling projects—both working from an idea or concept as well as modifying existing plans or drawings. The results have yielded beautifully articulated homes that offer the comfortable, local style of island living unique to Hawaii.
With a focus on blending functional floor plans and interior features with pleasing rooflines and exterior structures, at Honsador, we strive for enduring home designs that will suit the lot where they're to be built, complement the surrounding neighborhood and serve as home for generations of families. With this kind of balance and attention to detail, our draftspeople have drawn up hundreds of plans properly prepared for review by structural engineers and architects, local building and permitting departments, and contractors active in the bid and construction process.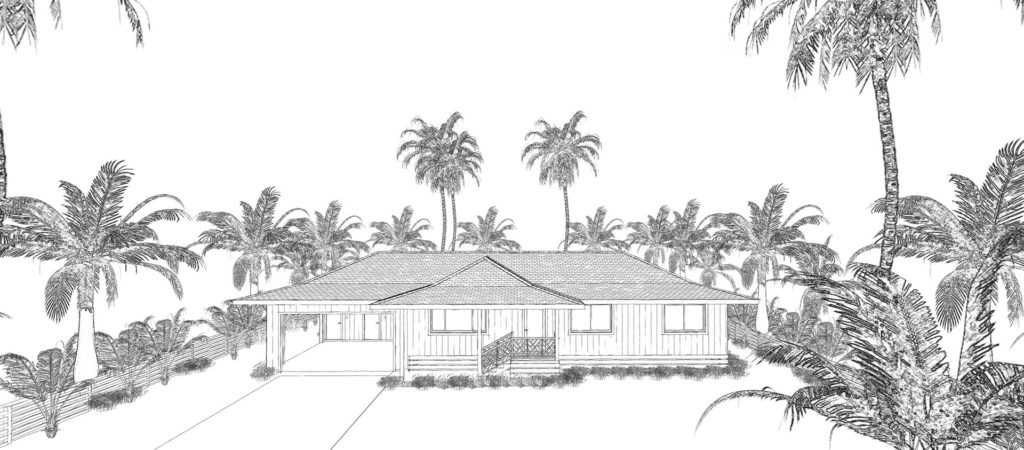 You'll find our homes all over Hawaii's islands, and each one began with a simple plan and working drawings. When you're ready to build and want a look and floor plan of your very own or you're thinking of building a neighborhood and want a distinctive Hawaiian design that hallmarks your work, Honsador Lumber's Home Planning Department and draftspeople are the place to start.
Visit the Honsador location on your island and share your visions and goals. On Oahu, we're located just off of Malakole Street in Kapolei. There, you'll find a full-service lumberyard, our roof and floor truss design and manufacturing facility, our island distribution center and nearby corporate offices. We're also in Lihue and Kilauea on Kauai and in Kahului on Maui. On the Big Island, we have a full-service lumberyard in Kona as well as a lumberyard with a truss design and manufacturing plant in Hilo. Every home begins with a plan. Let's get started on yours.