Islanders love to open up their homes to the balmy trade wind breezes, but over time, humidity can take its toll throughout a home's interior—especially on the windward sides of the islands. That's why Honsador Lumber takes care in selecting cabinets from quality manufacturers whose superior craftsmanship will last, maintaining both the beauty and value of whatever you build or create.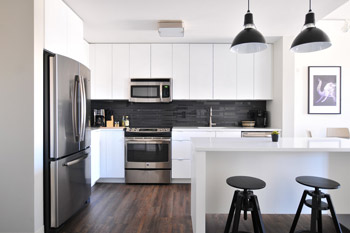 At Honsador Lumber, you'll find a selection of beautiful cabinetry and accessories for any style and budget. We can help you design a custom gourmet kitchen with pull-out drawers, or blend master bath cabinetry with dressing room built-ins. Our suppliers take pride in manufacturing a wide range of storage options that are as solid and functional as they are beautiful and enduring. Two of our particular favorites are DeWils Fine Cabinetry and Islander Cabinetry.
From traditional base and wall cabinets to more modern cabinetry featuring drawers and conveniences like rollouts, your perfect kitchens, baths, dressing rooms and closets, offices and more are just a layout away thanks to the helpful designers and cabinetry specialists at Honsador Lumber.
Come visit our full-service lumberyards—and our cabinetry specialists—on your island. We're in Kilauea and Lihue on Kauai, in Kapolei on Oahu, in Kahului on Maui, and in Kona and Hilo on Hawaii's Big Island. It all begins with a plan, a quote, and quality cabinetry you can trust only from Honsador Lumber.