Quality Design Services by Honolulu Wood Treating
Shop Drawing and Material Take-off service, featuring Weyerhaeuser's Javelin Software
Value design options are available for projects on a tight budget
Floor "FEEL" analysis tools, featuring the proprietary TJ Pro-Rating System
Complete conversion submittal packages including load calculations and layout drawings
Beam sizing and structural member analysis using Forte sizing software
Complete technical support from budgetary design to final installation
A complete library of specification literature including load and span tables
Hard hat walkthroughs with contactors, dealers and/or homeowners
Engineered Wood Products | Weyerhaeuser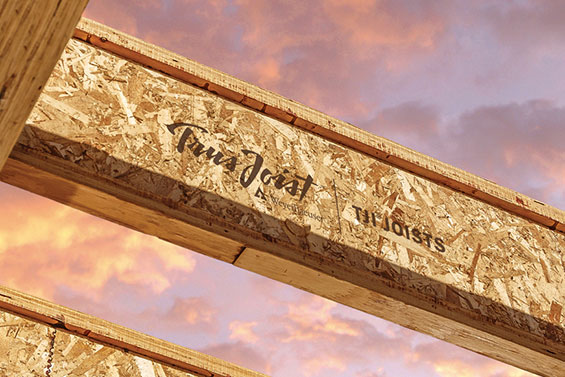 TJI® Joists
Trus Joist developed the wooden I-joist 50 years ago and Weyerhaeuser continues to build on that legacy. Engineered to provide strength and consistency, these joists are a key part of making a high-performance floor. The dimensional stability of Trus Joist TJI joists help them resist the warping, twisting, and shrinking that can lead to squeaky floors. TJI joists are lightweight and come in long lengths, which makes them faster and easier to install than traditional framing and saves you both time and money.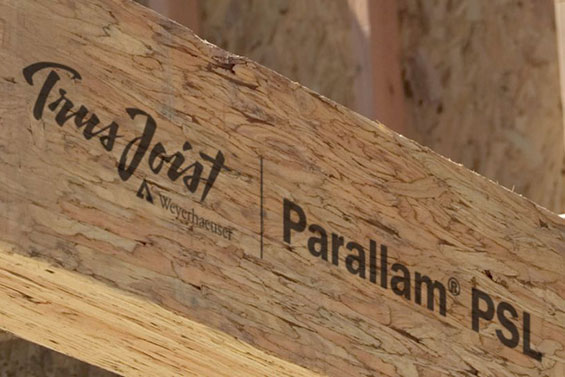 Parallam® PSL
PARALLAM PSL BEAMS
Now a great room can be even greater. Add strength and reliability to your structure when you use Parallam PSL beams, headers, and columns, and open up a whole new world of design options for the interior of a home.
Parallam PSL has been engineered to support heavy loads and span long distances. Using a patented process to bond together long, thin strands of wood, Parallam unites strength and consistent performance to create support members that deliver over the long haul.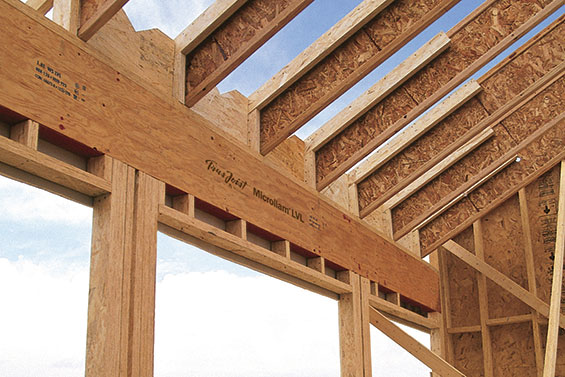 MICROLLAM LVL BEAMS
Microllam® LVL
Microllam LVL is a versatile solution that works great in applications all over the house from window openings to garage door headers. Microllam headers and beams can be built-up on site to cut down on heavy lifting. Moreover, installation is quick with very little or no waste.
The advanced manufacturing process minimizes many of the natural inconsistencies found in wood, such as knots, splits and wane. This allows Microllam to be very stable and they resist warping, splitting, shrinking and supporting heavy loads without worry.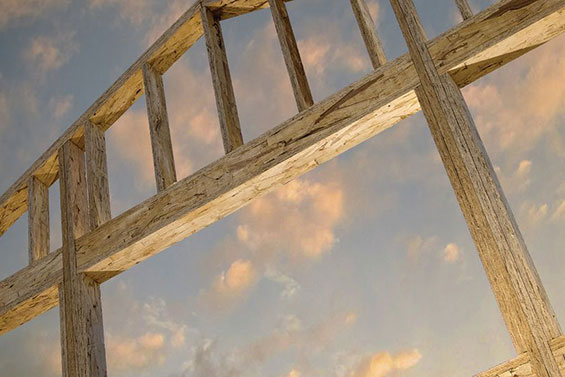 TIMBERSTRAND® LSL
TimberStrand® Laminated Strand Lumber (LSL) is one of the most innovative and versatile building products available. It is used to make solutions for applications such as rim board, headers, beams, columns, wall framing, sill plates, and stair stringers.
Not only that, but TimberStrand LSL a green building solution as well. The manufacturing process combines technology and innovation to produce high-performing engineered lumber that uses small-diameter trees that are not strong or straight enough to be of structural value as conventional sawn lumber products.
Engineered Wood Products | Rosboro X-Beam
Rosboro X-Beam
Rosboro X-Beam is Architectural appearance and matches standard framing. The greater widths relative to conventional 3-1/8″ and 5-1/8″ glulam equate to increased load-carrying capacity (up to 12% for 3-1/2″ and 7% for 5-1/2″).
You'll find them all at Honsador Lumber as well as helpful pros who understand a plan, can work up an accurate quote for your engineered wood products and see that everything you need will be delivered to your work site on time—exactly when you want it. Stop by the location on your island. We're in Kapolei, just outside Honolulu, on Oahu as well as in Kahului on Maui, in Kona and Hilo on the Big Island, and in Lihue and Kilauea on Kauai.